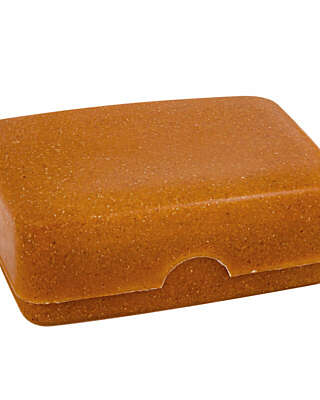 Liquid wood soap box - biodegradable - Zeepdoosje van vloeibaar hout - biologisch afbreekbaar
Helemaal Shea
Soap box of biodegradable liquid wood. Liquid wood is a 100% organic bio-plastic, made from wood. The soap boxes are biodegradable and do not contain plastic.
Dimensions: 9x6x3.3 cm
How is it made?
Liquid wood is made from a part of the trees that remains unused during the papermaking process - over 100 million kilos and is therefore the main ingredient of liquid wood. It remains from the process of the existing pulp (paper) industry. This residue is combined with natural resins, flax and fibers that can be injected into fungi.
In short:
we are talking about the precision, flexibility and durability of plastic .... with the 100% recyclable, renewable, tangible and aesthetic advantages of wood, in one new material.
Croll & Denecke liquid wood products are made in Germany, are biodegradable and do not contain plastic
*****
Zeepdoos van biologisch afbreekbaar vloeibaar hout. Vloeibaar hout is een 100% organische biokunststof, gemaakt van hout. De zeepdoosjes zijn biologisch afbreekbaar en bevatten geen plastic.
Afmetingen: 9x6x3,3 cm
Hoe wordt het gemaakt?
Vloeibaar hout wordt gemaakt van een deel van de bomen dat ongebruikt blijft tijdens de papierproductie proces - meer dan 100 miljoen kilo en is daardoor het belangrijkste ingrediënt van vloeibaar hout.
Het blijft over van het proces van de bestaande pulp- (papier-)industrie. Dit restant wordt gecombineerd met natuurlijke harsen, vlas en vezels die in schimmels kunnen worden geïnjecteerd.

Kortom:
we hebben het over de precisie, flexibiliteit en duurzaamheid van kunststof .... met de 100% recyclebare, hernieuwbare, tastbare en esthetische voordelen van hout, in één nieuw materiaal.
De vloeibare houtproducten van Croll & Denecke worden in Duitsland gemaakt, zijn biologisch afbreekbaar en bevatten geen plastic.