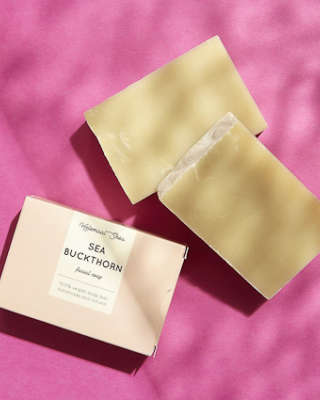 Sea Buckthorn facial soap bar
Helemaal Shea
Sea buckthorn oil comes from the seeds and pulp from the sea buckthorn berry.
The sea buckthorn oil has a high content of fatty acids, vitamin E and carotenoids. It improves the elasticity of the skin and ensures is moisturising.
The smell of the soap is a combination of grapefruit, patchouli, May chang (litsea), palmarosa and tea tree.
The facial soap has a rich foam is gentle to the skin, has a cleansing and healing effect on a red, irritated (with acne) or dry skin and can be used daily.
Suitable for all skin types.
Weight: 3.5 to 4.2 OZ
All shampoo bars and soaps from HelemaalShea are 100% natural, vegan, do not contain parabens, silicones, SLS, phthalates or synthetic fragrances and color. The soaps and shampoo bars last a long time = good for the wallet, they are packaged in fsc certified Biotop paper = environmentally friendly and sustainably produced. The packaging is recyclable = no waste!
Ingredients (INCI): saponified olive oil, saponified Coconut oil * , water, glycerin, saponified cocoa butter *, saponified Castor oil, essential oils of grapefruit, patchouli, May chang, palmarosa and tea tree, yellow clay, saponified wheat germ oil, sea buckthorn oil.
INCI: sodium cocoate*, sodium olivate, sodium sunflowerseedate, glycerine, aqua, sodium cocoa butterate*, sodium castorate, citrus paradise, yellow (illite) clay, Pogostemon Patchouli, sodium seabuckthornseedate, sodium wheatgermate, Litsea Cubeba, Cymbopogon Martinii, Melaleuca Alternifolia, linalool**, limonene**, citral**, citronellol**, geraniol**.
*organic **naturally present in essential oil.
Some people may be allergic to certain ingredients in this product.