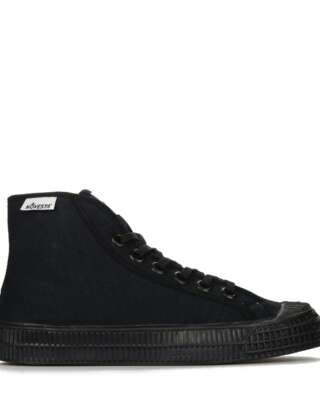 Star Dribble Black
Novesta
The perfect addition to every wardrobe, the Star Dribble hi-top combines our iconic chunky sole silhouette with the timeless basketball boot shape beloved by millions. Either in all-cotton classic or in one of our exciting seasonal variations, the Star Dribble is the ideal shoe for a myriad of looks. Be it in one of our vivid colours, or classic monochrome, this shoe is your new best friend.
Upper - 100% cotton
Lining - 100% cotton
Insole - removable, recycled rubber, top canvas layer
Sole - glue free pressed natural rubber compound
Lining - 100% cotton
Laces - 100% cotton
Handmade shoe
HOW TO TAKE CARE OF NOVESTA FOOTWEAR
HOW TO CLEAN CANVAS SHOES
The most economical way to get the most visible dirt out of your sneakers is to place them in soapy water. Gently clean the dirtiest areas with a brush, then rinse them under water and squeeze out excess water. We always recommend removing laces and insoles from shoes and cleaning each sneaker separately. We DO NOT RECOMMEND washing most types of shoes in the washing machine. If you still choose this option, consider the washing program you choose carefully (NEVER wash at temperature exceeding 30 degrees). Always choose the delicate cycle, preferably with the slowest tumbling and spinning. We also recommend putting sneakers in a luggage bag to protect them from damage. Clean the white soles preferably with a special product and with an old toothbrush. Thanks to such treatments, your sneakers will look like brand new for a long time.
HOW TO DRY YOUR SHOES
The drying process is very important in the treatment of shoes. Never expose shoes to direct sunlight and never place them directly under the radiator or other heating body. It may distort them, fade the colour or even change the colour of shoes due to strong sunlight. It is recommended to put a magazine inside sneakers/shoes (to fill sneakers with a wrapped newspaper), which absorbs moisture, and remember to put your sneakers in a dry and warm place (let them dry at room temperature). Drying will take longer, but you can be sure that the shape and colour of your favourite shoes will be preserved.