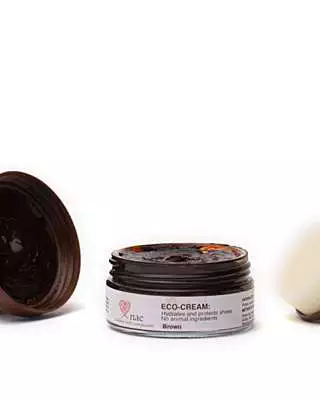 Vegan Eco Polish Cream
NAE
Eco Cream that protect, nourish and gives a natural shine to your vegan shoes. Made with no animal ingredients and available in brown.

Eco Cream is a cream that hydrates and protects shoes.

Method of use: removing remains of dust and dirt from the shoes. apply eco-cream with the sponge in circles. After apply, clean the sponge with water. Give shine with a brush or cloth.

Made in Portugal.

Keep and protect your nae products!- For Piñatex products we recommend a polishing cream. It must have the same color of the product and must be specific for the product as well. It will help to keep the original color and look. For microfiber products, we recommend a damp cloth and a neutral eco cream.