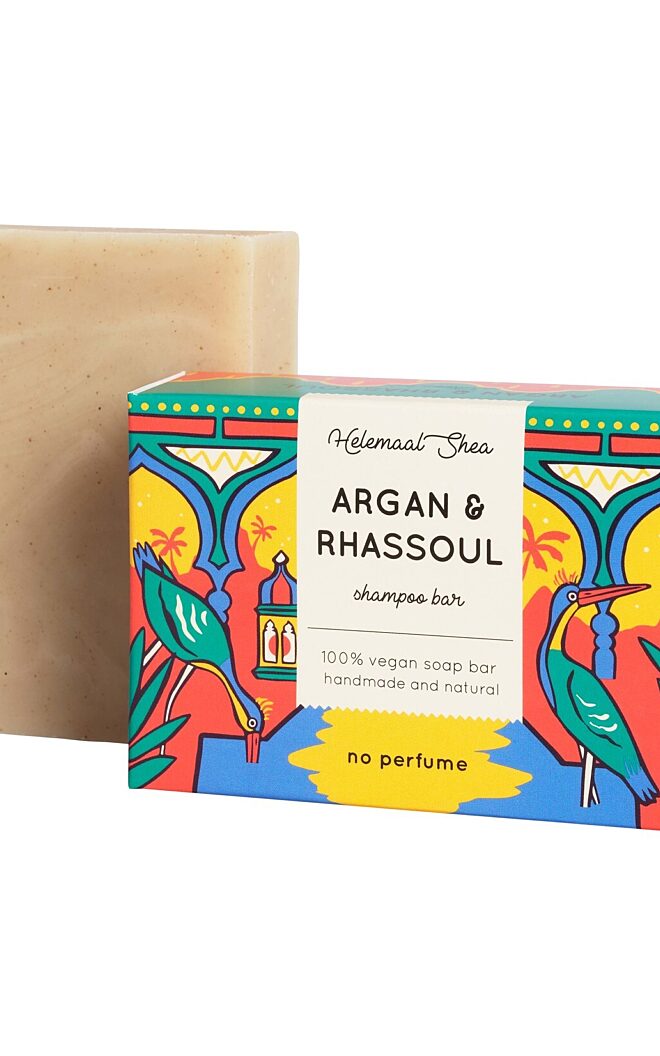 Argan & Rhassoul Hair Soap
Helemaal Shea
Argan & Rhassoul hair soap.
A good dose of argan oil has been added to this handmade shampoo bar. Argan oil nourishes the hair intensely and provides soft and shiny strands. Argan oil contains many vitamins, minerals and fatty acids, which supports the repair of damaged hair and moisturizes skin and hair.
Rhassoul clay is unique among the clays due to its soft and supple feel on the skin. It gently absorbs fat and dirt from skin, hair and scalp. It also makes the hair soft and shiny. Rhassoul clay is slightly foamy of itself. This makes the hair soap an exuberant foam.
The hair soap does not contain essential oil or perfume but naturally has a warm nude scent.
This perfume-free craft and natural hair soap is suitable for every hair type and those with sensitive skin. It is a perfect shampoo bar for curly hair and against dry, fluffy or damaged hair.
Ingredients: soaped olive oil, soaped shea butter, soaped coconut oil, soaped castor oil, soaped mango butter, glycerin, water, argan oil, rhassoul clay.
INCI: sodium olivate, sodium sheabutterate, sodium cocoate, sodium castorate, sodium mangoseedate, glycerine, aqua, Argania spinosa oil, Rhassoul clay.
Keep in mind that you need to get used to washing hair with hair soap. Depending on how often you wash your hair, it takes about 2 to 4 weeks before your hair is used to it. You may not be immediately satisfied. This is because your hair and scalp first have to get used to the fact that you no longer use chemicals and need time to recover. After washing 2 to 3 times, the hair can still feel a bit greasy. If you have been washing with solid shampoo for a while, you will notice that your hair will get more volume. And your hair is wonderfully soft.

Organic ingredients
Vegan
Sulphate free (sls free)
The packaging is 100% recyclable
gluten free
Only tested on people :)
Palm oil free
Ingredients of natural origin
Free of parabens
Free of silicone
Free of phthalates
Free of synthetic dyes
Free of microplastics
Free of preservatives
Perfume free