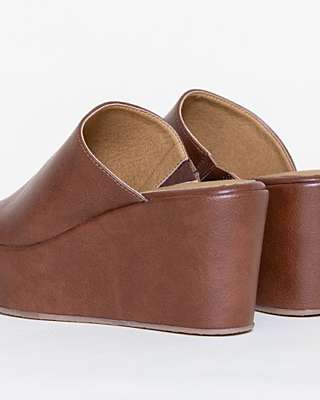 Cory Vegan Leather Platform Sandal
CORY Platform shoes
Colour: Brown
Soft Vegan Leather
Covered Sole
Front part of the platform is 4 cm height
Back Part of the heel is 8 cm height
Microfiber breathable lining


FITTING:
CORY fitting is accurate to a little small, if you are in between sizes we advise you to order a size bigger than your usual size


ENVIRONMENTAL IMPACT
100% microfiber
Chromium VI-free
Ecological CO2-free manufacturing system
OEKO-TEX® Standard 100
SENSATION OF LEATHER, QUALITY OF MICROFIBER 100% HEALTHY
Absorption – desorption = Total dryness
High abrasion
Antibacterial
Anti-microbial
Anti-odour
Thermal regulation effect
Maximum removal of water
High tear
Hypoallergenic
Absorbent
100% Breathable
IT IS ECOLOGICAL
We certifies that an external laboratory has subjected the fabric to strict testing and has declared it to be ecological and free of agents harmful to health.
OUR SHOES ARE MADE IN PORTUGAL in a FAIR TRADE environment
Most of our components are made in Italy, Spain or Portugal in a fair-trade environment.
OUR MICROFIBERS ARE...
Produced in an eco-friendly and sustainable with minimum environmental impact. Our microfibers are made from POLYESTER and NYLON and for most of our vegan suede they can be recycled, even though NOT 100% recyclable YET but we are working on it .
REGULATION
It far exceeds the stipulations of the UNE-EN ISO 20344:2004 standard (R-09119381)
In accordance with the REACH regulations
In accordance with the legislation relating to azo dyes and chlorinated paraffins
In accordance with the 20882 IN: 2009 standard
In accordance with the UNE EN ISO 20344:2010 standard