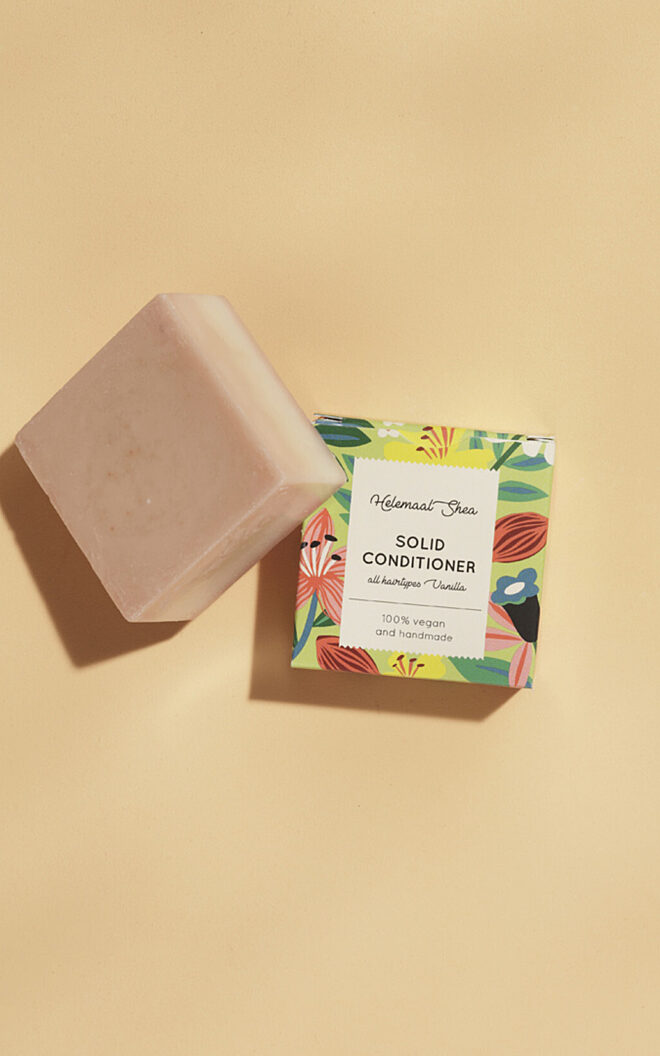 Solid conditioner - All Hair Types - Vanilla
Helemaal Shea
The solid conditioner bar is a pure, handmade solid conditioner full of hair care natural ingredients. Packed in a box, so no plastic!
The solid conditioner detangles, nourishes and cares for the hair and scalp. In the scent of vanilla.
In addition to the nourishing cocoa butter, coconut oil and sweet almond oil, the solid conditioner contains more ingredients that are super good for your hair:
Broccoli seed oil: leaves a protective film on the hair. It smoothes the hair and makes it shine.
Pro vitamin b5 (Panthenol): Builds a thin moisture film on the surface of your hair and makes it shiny. It also has hair-enhanking properties.
Vitamin E: nourishes, moisturizes and helps the skin regenerate. This vitamin oil helps improve hair elasticity and helps promote the healing of damaged skin.
The solid conditioning bar with allergen-free vanilla oil is suitable for any hair type. The conditioner is especially suitable for those who find the smell of the essential oil in the other solid conditioners too strong.
Use: Apply the conditioner to wet hair immediately after washing. You can rub the conditioner bar directly on the hair or you rub the bar between your hands after which you distribute the conditioner over the hair and massage the tips well. If you have a slightly oily scalp or slightly fatter hair, start applying the conditioner about 4 centimeters of the scalp or treat only the tips. Leave on for a minute or two. Comb your hair with your fingers before you rinse it out properly.
The solid conditioner lasts a long time, more than 100 days.
Perfect to use in combination with the hair soap. Also perfect to take with you on vacation. For example, if you travel with only hand luggage, you do not have to bring bottles with liquid content.
Store the solid conditioner in a dry, well-ventilated place.
Weight: 50 grams
dimensions: 5x5x2.5 cm
Ingredients: Conditioning agent (plant based emulsifier), cocoa butter, coconut oil, sweet almond oil, allergen-free vanilla oil, broccoli seed oil, oat silk, pro vitamin B5 (pathenol), vitamin e oil.
INCI: behentrimonium methosulfate, cetyl alcohol, butylene glycol, theobroma cacao (cocoa) seed butter, cocus nucifera (coconut) oil, prunus amygdalus var. dulcis (sweet almond) oil, parfum, brassica oleracea (broccoli) seed oil, avena sativa (oat) kernel flour, panthenol, tocopherol (vitamin e).
The packaging was designed by Marijke Buurlage Illustration.
More information about the solid conditioner:
Organic ingredients
Vegan
Sulphate free (sls free)
The packaging is 100% recyclable
gluten free
Only tested on people :)
Ingredients of natural origin
Free of parabens
Free of silicone
Free of phthalates
Free of synthetic dyes
Free of microplastics
Free of preservatives
Wonderful scent by using essential oil