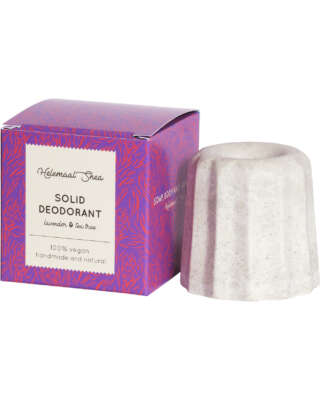 Solid Deodorant - Lavender & Tea Tree
Helemaal Shea
This 100% natural, sustainable and vegan deodorant cube, is made with organic cocoa butter, organic coconut oil, absorbent bentonite clay and matcha green tea powder, which is full of antioxidants. No baking soda has been used which makes the deodorant very suitable for sensitive skin. Even after shaving, the deo does not sting.
In the scent of the essential oil of lavender and tea tree.
The solid deodorant does not suppress sweating but fights the bad odors.
Special features:
Smell: floral, earthy.
Cocoa butter: penetrates deeply and nourishes the skin.
Green tea powder: packed with antioxidants.
Coconut oil: is naturally antibacterial and has a neutralizing effect. In addition, it is intensely moisturizing and perfect for sensitive skin.
Zinc oxide: converts fatty acids into odorless zinc salts before the bacteria can do their job.
bentonite clay: a natural cleaner and bacteria killer.
Use: rub the block under your armpit several times. Wet is not necessary. Store the deo on a nice dish or just in the box.
Suitable for all skin types.
Weight: 50 grams
Due to the high percentage of cocoa butter, the deodorant can soften and even melt in very warm weather. Then temporarily store the deo in the refrigerator.
The solid deodorant lasts a long time, more than 3 months, = good for the wallet, is packaged in FSC certified cardboard = environmentally friendly and sustainably produced. The packaging is recyclable = no waste!
Ingredients: cocoa butter, coconut oil, cetyl alcohol, rapeseed wax, bentonite clay, zinc oxide (Non-Nano/Coral safe), matcha green tea powder, vitamin E oil, lavender essential oil, tea tree and cedar wood.
INCI: theobroma cacao (cocoa) seed butter, cocos nucifera (coconut) oil, cetyl alcohol, brassica campestris (rapeseed) seed wax, bentonite clay, zinc oxide, camellia sinensis leaf (green tea) powder, tocopherol (vitamin e), Lavandula angustifolia (lavender) flower oil, Melaleuca Alternifolia (tea tree) oil, Juniperus Virginiana (cedarwood) oil, limonene*, citral*, linalool*, geraniol*.
*naturally present in essential oil.
The packaging was designed by Marijke Buurlage Illustration.
More information about this deodorant:
Organic ingredients
Vegan
Sulphate Free (SLS Free)
The packaging is 100% recyclable
Gluten free
Only tested on people :)
Palm oil free
Ingredients of natural origin
Free of parabens
Free of silicone
Free of phthalates
Free of synthetic dyes
Free of microplastics
Free of preservatives
Free of aluminum
Wonderful scent by using essential oil