Picks of the Week!
14/04/2020
Spring has sprung!
Let us inspire you with some of our fav outfits!
These are our picks of the week...

---
Absolutely amazing. The Zonjaa is a winner for every woman out there. This shirt has a loose fit, an easy sleeve and both works perfectly with a pair of jeans or classy bottom piece for a work situation or night out. And for a more classic style Zonjaa also exists in plain white.

By the way, we love the new Armed Angels Springtime Happiness print: it is tasteful but with a dash of pink it's so much fun!

And yes, this print is also used for two lovely dresses! ;)
The long Beantaa & short Airaa Dress.


Our favorite combo is to pair it with the fantastic Kings of Indigo Leila jean. This screams happy spring vibes. And when tucked in, it is the cutest outfit!

These jeans, I mean... These jeans are really the most comfortable you have ever worn. Soft to the touch and wide legs: this is the recipe that will make you decide to never ever take them off again. ;)

Leila has a balloon shape & is inspired by the fit of the traditional Japanese trousers. They are also meant to be worn cropped.
Alice is a straight but also wide-legged denim by Kings of Indigo.


Pop of color!

This new coral color from the new Rains collection is amazing and the best choice when you want to be cheerful when the streets are grey & rainy.

Rather have a more neutral color? No worries, we have got you covered! Black, Green, Beige, Blue... We have a large range of shades and cuts! ;)

They use recycled plastic bottles & oeko-tex certified rubber for their fabrics & the best part is that they are 100% waterproof!



The Nikolaa Sweater for Men from Armed Angels is always a good choice. It has such a basic cut, it suits every man.

Every season it comes in different colors. And now it is showing off with a vibrant Dark Orange.

In search of a lighter sweatshirt? Then Laado is the perfect choice & also shines bright in Dark Orange.
Laado has a more classy look than the sportive Nikolaa sweater.







The pumpkin-like color pops so beautifully with the stylish Knowledge Cotton Apparel shorts. The fabric is super light & has a very subtle check pattern. Ideal for dressed up spring & summer days.

Prefer trousers?
Then the Chuck Chino helps you out here! :)
Oh! And of course it is needless to say that it is child's play to endlessly combine various colors & styles with this classic fabric.





We are head over heels with this timeless dress in Golden Khaki.

Made out of Lyocell this is the perfect breezy & breathable item for everyday use or for work.

This color easily combines with other colors, prints or other flashy items like the Silver Bomb on my back. :)

Even with pink nails!
Wearing that Nailberry Hollywood Rose here! ;)
And of course... B'elle earrings give your outfit just that little juicy splash! We love them all, but we chose the serene white circles here, to smoothen the hot pink & bombalicious silver. ;)

The white of the earrings & the beige of the vegan Samo sneakers obviously harmonise with the pallet of the dress.

Samo sneakers from Good Guys in vegan suede are like gentle puffy clouds on your feet while walking on this planet Earth.
A real recommendation!
And on top of that they are completely vegan & oeko-tex certified!


About the flashy Silver Bomb, this is the new rucksack from Rains. A very minimalistic backpack with two compartments inside. One for your small 13 inch laptop & one for all the rest.
It comes in Beige, Silver & Green.
After wearing the Mini Backpack for 3 years straight on almost every occasion (yes, you might call me an addict) I was ready for a fresh new baby. And I couldn't be happier. It might look shiny, but in fact silver is pretty neutral, timeless & it goes surprisingly well with every other color.

Päälä T-shirts & Tops are the best!

They use modal, tencel, linen, organic cotton, bamboo & they all feel a-maze-balls. And fall so smoothly on your skin.

And then... As a cherry on the cake: this Moon Rise print!
Yep, we are in love, we are in awe!
Available in Navy & White.

We also love the new brand MOKEN who creates the best ecofriendly & fair sunglasses in the prettiest styles. In fact, they have recently just arrived and are almost sold out...
Here I'm wearing the Twindrop model in Blue-Grey.



Moon Rise T-shirt in White!
Yup, we are ready for you, Sunny Spring Days!
Completely prepped with classic but fun blue striped Armed Angels T-shirt & Moken Enzo sunglasses.


Needless to say that this outfit can only come with a smile... And Chino Trousers. We are going double classic with a Light Golden Sand Chino. Suits every man & occasion.
These Chinos also come in Military Green!
Rather have a plain T-shirt? This light blue Knowledge Cotton tee might do the trick. It has a chest pocket & comes literally in the softest organic cotton in town. Promise!

Check out the new Good Guys Cooper vegan Shoes for Men in Beige Desert! Soft to the touch, vegan & very comfortable. They combine easily with a pair of jeans or classy trousers.

Easter 2020 has just flown by.
But this yellow Makia T-shirt is always a pleasure to wear.
Cheer up with this Horizon T-shirt!

The combo with this fantastic Kings of Indigo Daniel denim makes us smile. Light like a feather. Relax & enjoy.
Daniel denim has more room at the thighs for comfort & the legs are tapered, with a slightly bigger bottom.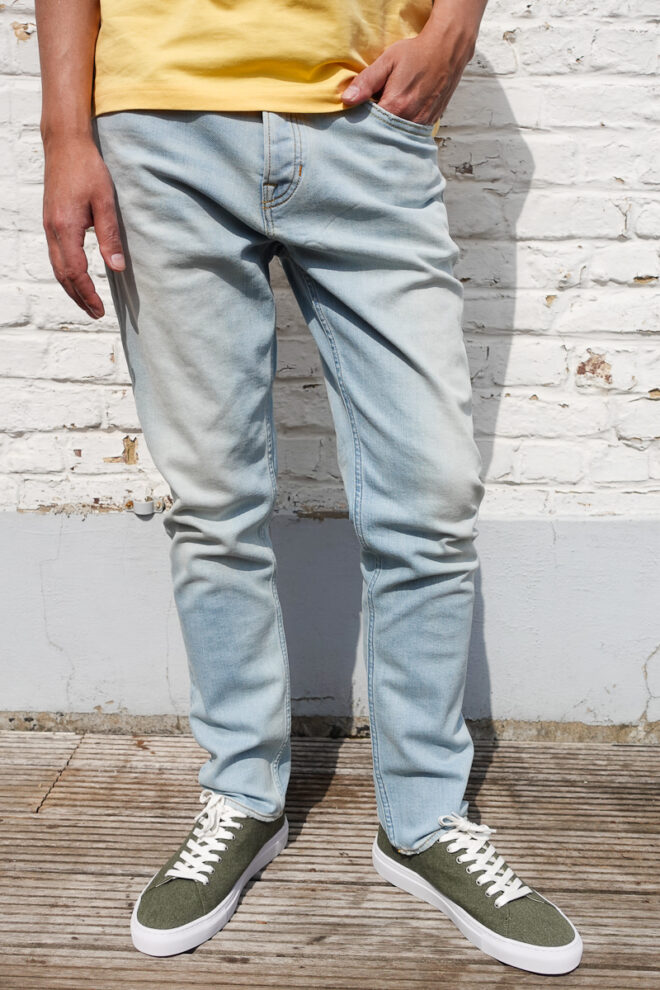 Stop looking for the perfect, fair & square, casual & light sneaker.
Makia Township sneakers are the answer!
The timeless green makes combining outfits a piece of cake.


Let's finish with the sweetest, high waist, knee-length, striped Lily Balou skirt. Absolutely adorable, yet a feminine look. Light to wear in organic cotton. The wooden buttons make it such a cosy piece...

Love the combo with the best Woron basic: the-one base! Best body ever! Woron is a master in making the best minimalistic underwear in the softest fabrics ever. They use modal & it feels like a second skin!

Also the back of this basic body is elegant & tasteful.

Wearing it with the Model shoes from newcomer Melissa! They use recycled plastic bottles for their creations and they are so comfy to wear! Be quick, there are only two sizes remaining! ;) But no worries, we still have other Melissa sandals!

This outfit can of course go effortlessly with flats, sneakers or ankle boots.



Of course you can mix and match this one-base body, it is wearable on every occasion. That is why the one-base body is such a fantastic basic in every women's wardrobe. Style it up for a night out or as I love to wear it: paired with a regular jean.

Here, on this picture, I am wearing the Fjella Cropped denim from Armed Angels and without any doubt this is my absolute number 1 denim of all time. Perfect cut & we are very excited because this season we offer it in white! And let's face it, a crispy white jean is always a stunner for sunny days...


We hope we have inspired you with our picks of the week!
And we can't wait to open our shop again & to welcome you for some fair & square shopping, a nice chat & great SWAY-vibes!
Have a lovely day & take care!

Jozefien & Rose
♥