Spring Looks, Part II
29/04/2020
In this blogpost you can find another range of spring & summer outfits. And this time with a special emphasis on jackets for the ladies!
---
To start we are showing off this Tulsi dress from Beaumont Organic! The Green Botanical print expresses the fulness of spring & summer delight to the max. Even when it would be grey all day, this piece would make you feel like a fresh new leaf.

Of course the design is drop-your-jaw amazing: an oversized & flowing midi dress in organic cotton with puffy sleeves! Perfect for a garden party, a marriage or just for you... To enjoy your summer day.

Great with a pair of flats or sandals. And for extra natural appearances no shoes at all work perfectly fine as well. ;)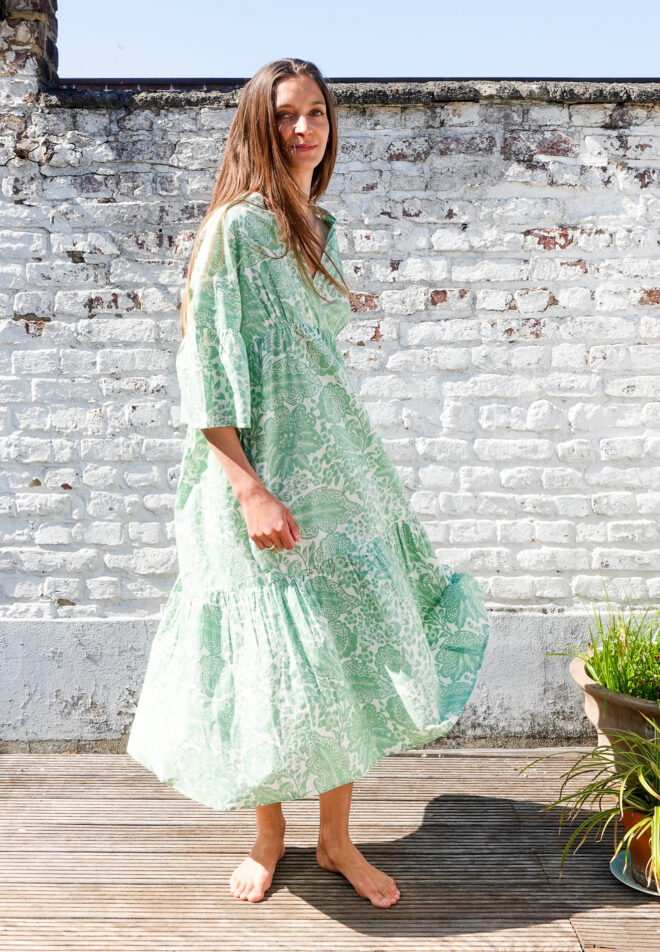 At this very moment we are still waiting for the new Beaumont Organic pieces to arrive... Due to the current measures it has been standing on hold. But we keep our hopes up for the rest of the collection to arrive very soon! We will keep you posted!


The new fantastic Milfontes canvas jackets have just arrived at Sway. They are made from beach canvas! With a sturdy fabric like this you can be sure to wear this piece for a decade or more.
Super comfy jacket with out- & inside pockets!

It comes in Stripes or in plain Terracotta. We love them both! The stripes yell happy vibes & they are neutral enough to combine with several outfits & colors. Below you can view the Terracotta coloured Milfontes. This color tells you boldly: Yes, I am a stunner. It is hard not to look great in this rusty earth tone.
Speaking of colors, the canvas is naturally dyed!

Näz is a new brand at Sway & we could not be more excited about it! Näz is such a pure label. The women behind it are such gentle, but passionate souls with a heart for fashion, people & planet. So yeah, we love this new collab. :)

The fabrics that Näz works with have a low environmental footprint. The fabrics are almost all made in Portugal. Näz's goal is to create a company based on 100% local production. Näz
works with different materials like leftover fabrics from Portugese textile companies, which they buy for a fair price. In addition, they use the ecological fabrics Cupro and Lyocell.
Hang on, we are about to stress how amazing this new Erstwhile Sweatshirt is!

First of all, it's made of 100% organic & pre-washed Portuguese Cotton. Erstwhile always chooses the finest cotton!

The beauty of this sweater obviously resides in the details. Allthough the main color is beige and gives it a zen vibe, it surprises & throws in some color at the cuffs as well. And not just one, but four different shades & are inspired by the Olympic colors.
A perfectly balanced design: an optimistic sweater without going dressed as a crayon color box. We love it.

The triangles at the neckline, on the front & back of the sweat, are also a subtle wink to sports. Erswthile is all about bringing nostalgia around the sportsworld alive.

And yes, choosing for Erstwhile, is buying Belgian. Erstwhile is a brand from Mechelen!

Did you know that all Erstwhile's designs are in fact unisex? Allthough they have some pieces only for women (like this super duper T-shirt on the left), the men's collection could easily be worn oversized by the ladies as well. Super cute tucked in a jean or summer shorts!
And as all Erstwhile's babies, this Montreal 1976 also has a story to tell: Romanian Nadia Comăneci became the first gymnast to record a perfect 10 in Olympic competition when she represented her home nation at just 14 years old. With the seemingly impossible achieved, Comaneci went on to record a further six perfect scores en-route to three gold medals.

How awesome is this tee paired with these new high waisted Banja Denim Shorts from Kings of Indigo? They have wide legs & a modern workwear look. We considered the possibility that it is probably unnecessary to announce how awesomely relaxed this outfit is. But safety above all, we are sharing this must know fact: this spring you won't be bothered by a thing when wearing this ensemble while looking amazing.

Kings of Indigo let us faint with the Ota Jacket. Yes, the word is out... They made a two-piece, the Ota jacket & Bangja shorts are a couple. They live happily ever after together or apart.

This is the perfect denim jacket! Easy to combine with... Well anything, really. And just like the shorts, they show off with large pockets in the front.

And Light Denim Shade is the perfect blue for spring & summer: bright enough to reflect those sunshiny days.
Bring it on.
Long live long dresses!
Absolute stunner Beantaa blends also perfectly with the Ota denim jacket! This long shirt dress -in Springtime Happiness print we mentioned in our previous blogpost - is such an easy & feminine dress. And good news! It comes in the wonderfull lyocell fabric! Very soft, breathable & of course Sway-approved: sustainable & vegan!

Talking about vegan... Spot the new vegan Novesta Star Master Shoes! These basic beauties come in three colors: beige, navy & military.

Novesta has recently been creating new designs! You can already take a sneek peek & click on Marathon. Or read about them later in this blogpost! :)
Novesta makes shoes since 1930 & has always remained a purely European brand!

The statements below sums up quite frankly what Novesta stands for...
Profile: Basic Sporty Vegan Unisex Shoes
Combines with: everything
Occasion: always & everywhere
Price/Quality: 1000 stars
Needless to say we adore Novesta sneakers, both ethically & esthetically.
Ooh, sunny days! They ask for linen shirts!

Such a classic piece and it literally allows to combine itself with everything; especially in this natural sand color. The stand collar makes us daydream of Moroccan sceneries & hot sun or at least gives us a hint that it may be sunny day.

Knowledge Cotton Apparel is a master in creating on point men's collections!

Another Knowledge Cotton piece are these Joe trousers in Total Eclipse, read: dark blue.

This is an absolute bestseller for men! They were almost sold out, but we were lucky to be able to re-order them. So guys, here is another chance to buy your forever perfect pants!

It is wearable for work, a party or for every day. Here, in combo with the shirt & sneakers, we are prepped for either a party, family gathering or city stroll.

And, yes, underneath the Joe trousers, you can see the fresh new cruelty-free Novesta creations: Marathon sneakers!
They are vegan & by far the most comfortable shoes we have ever worn! Really. Amazing.

They come in Grey & for the ladies also in Yellow & Blue (soon online)!

These high rise Dinamite Trousers from newcomer Amt. have it all: comfort with an elastic band, softest Lyocell fabric and a very feminine surprise at the bottom of the legs: slits!

These work with perfectly with a pair of sandals: they show your sunkissed ankles & feet with the world. Win-win! Here I went full on bananas with this barefoot look. ;)
We love the cute Armed Angels Lidaa Ring Stripes T-Shirts! Lovely in a Tencel fabric. They come in a happy yellow/beige & for a more classic look the navy/beige saves the day. An every day, easy spring or summer tee.
To lift the spirits we go for fantasic Makia red. They perfectly match a blue or grey denim. Of course combined with the Chuck Shorts & Samo Mustard Sneakers it is the perfect let's go for a walk in the park vibe. Chill but spiced up with a dash of red.
Have we mentioned the Good Guys Samo sneakers enough? The mustard color is definitely the most popular for men, but are also loved by our female customers. A great basic for your wardrobe! And the vegan suede is so gentle on your feet!

They are made from oeko-tex certified microfiber in Portugal.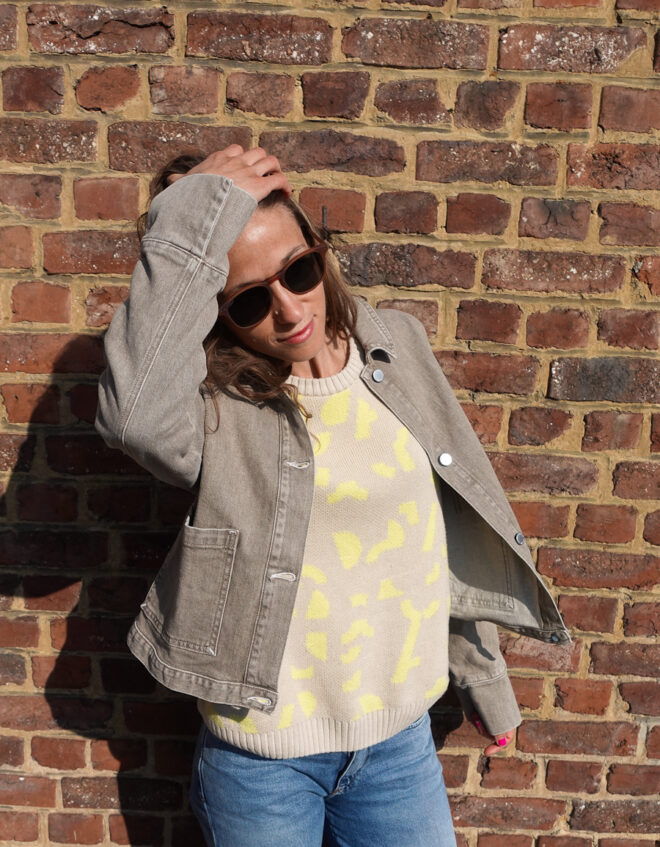 Yup, it was love at first sight. The Olessyaa Fragments knit, what can we say... It is so, so georgous. The perfect mariage of the two colors, the relaxed fit and the bright lime makes you shine without any effort.
Tip of the day! Ollyssea knit spreads her wings; big time! I am wearing size extra small here, so make sure you take a size smaller than you are used to...

The natural look of the Maaisa Jacket goes so well with the zesty Ollyseaa knit. This fabric has not been dyed, so the beige/brown color is the original one. A super ecofiendly piece and allthough I'm not wearing it here, it comes with a cropped Nessaa Denim. So pretty worn together! But as you can see, wearable with any type of trousers, even with a classic blue jean.

We are a big fan of Moken! They create organic eyewear with great designs.

They all have a category 3 protection, which means they secure your eyes highly against sunglare. I am wearing Enzo here!

Enzo is bio based & made from the castor plant. But hurry, the Moken collection is almost sold out! :o

We hope we have inspired you with our picks of the week!

We hope to be able to open our shop in Leuven on 11/05.
Keep you posted!
Have a great day & take care!

Jozefien & Rose
♥